This is a ride report for some scooter nerds I hang out with. The rest of y'all are welcome to read it, but it might be a bit boring.
Today I wanted to test various bits of new gear and technology and decided to take a ride in a largish loop West of Topeka. RoadsideAmerica had a couple of sights out that way I'd missed on previous rides so I figured I'd take the longish way around.

This was my first time using OsmAnd for a trip. Normally I use Google Maps, which works pretty good for trips with one destination where you're taking their default route. I wanted a mixed route and have had a lot of trouble with Google Maps not handling multi-point routes in the past (tends to re-route somewhere in the middle and ignores the original plan, especially if I zip off-track to look at something shiny). With OsmAnd I was able to set the route and it kept the waypoints remembered and worked great despite my various detours. The voice is more quiet (bad through headphones and road noise) and the interface takes some getting used to, but I'm looking forward to using it again.

There are a lot of beautiful run down barns and houses in the back roads of Kansas. I liked the looks (and closeness to the road) of this one.

The Rapp single room schoolhouse complete with metal playground equipment. If you listen closely on a day like this you can still hear the screams of children touching the super-hot equipment in years past. No kids there now, this sits off a country highway with little around.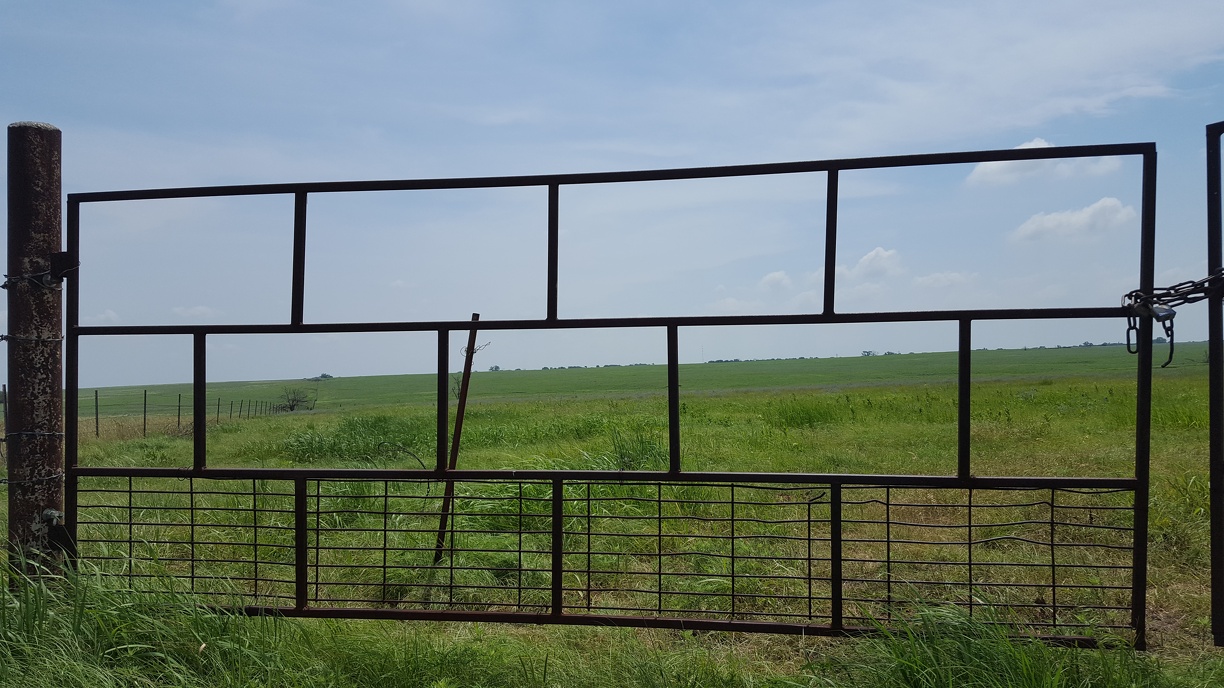 A couple of images as I stopped to rest and grab some water.

Kansas Twisties! We don't really do turns around here.

There are so many tiny towns with great downtown buildings all over Kansas. Most, like Eskridge pictured here, have clearly seen better days. It always breaks my heart a little to see this.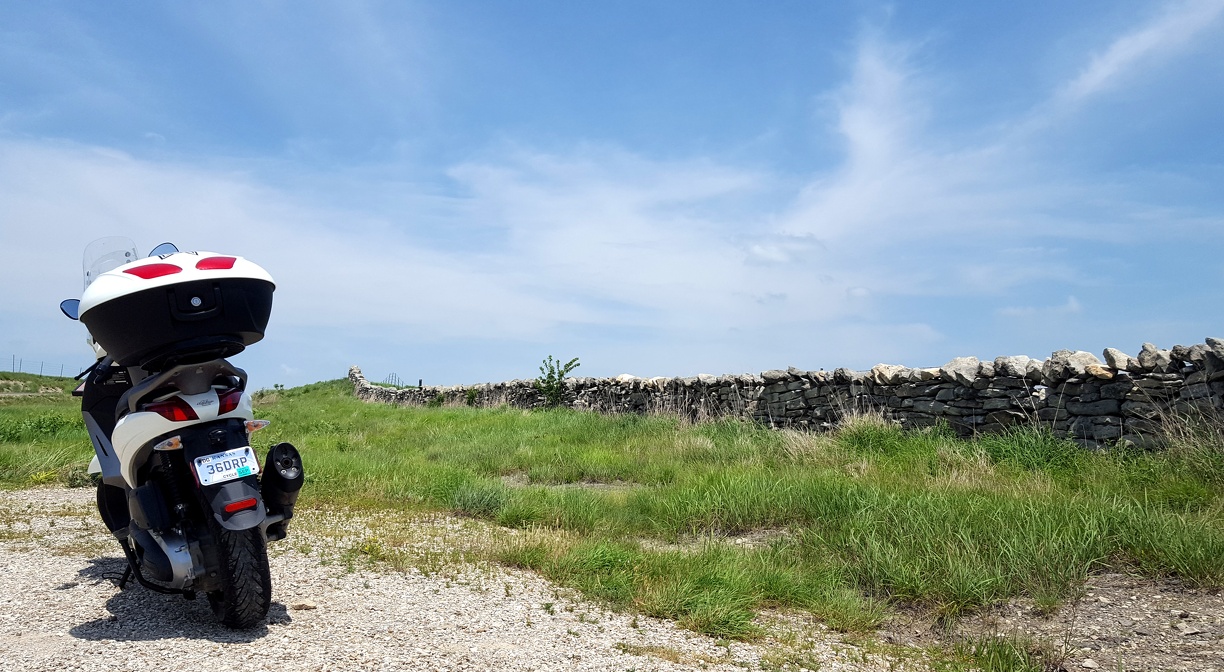 Stone Fences! There are a few of these following highway 99 south of I-70. The government paid folks to build them for a while. They make a nice contrast against the rolling plains. The feel here is similar to the nearby Flint Hills; lovely, subdued landscape.
From here I jumped on I-70 and headed back towards Topeka a bit. I wanted to check my gear at high speeds, I'll talk about that at the end. For now, a quick detour off I-70 to Maple Hill Church!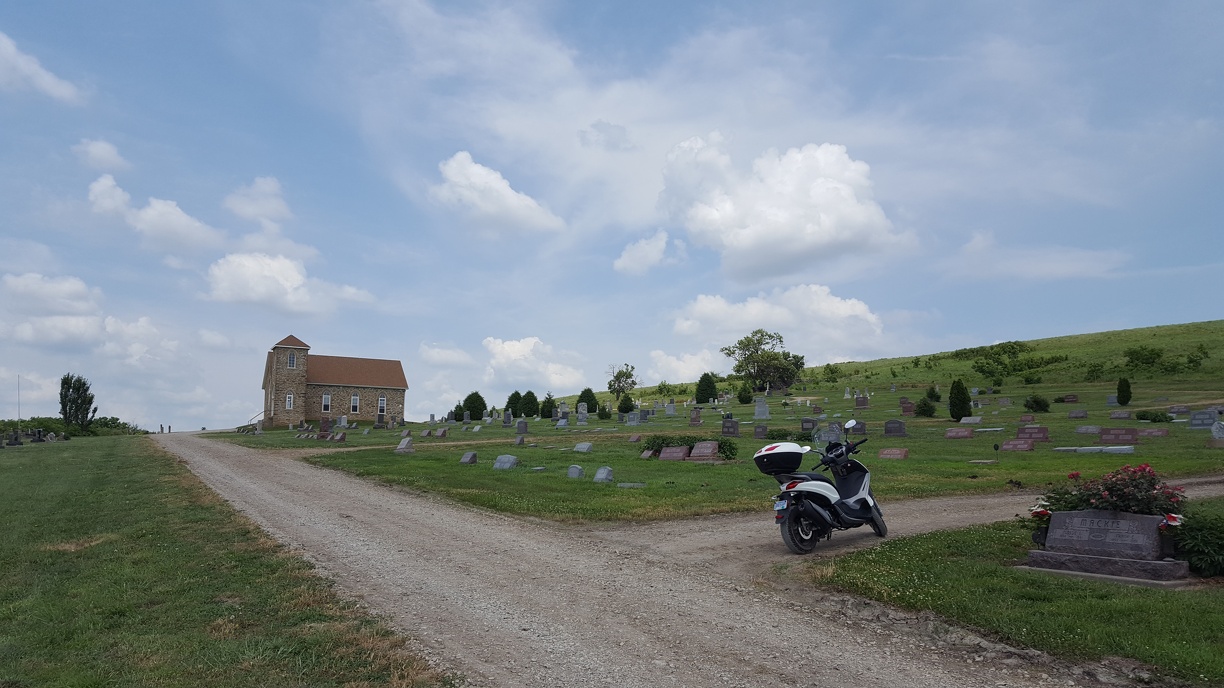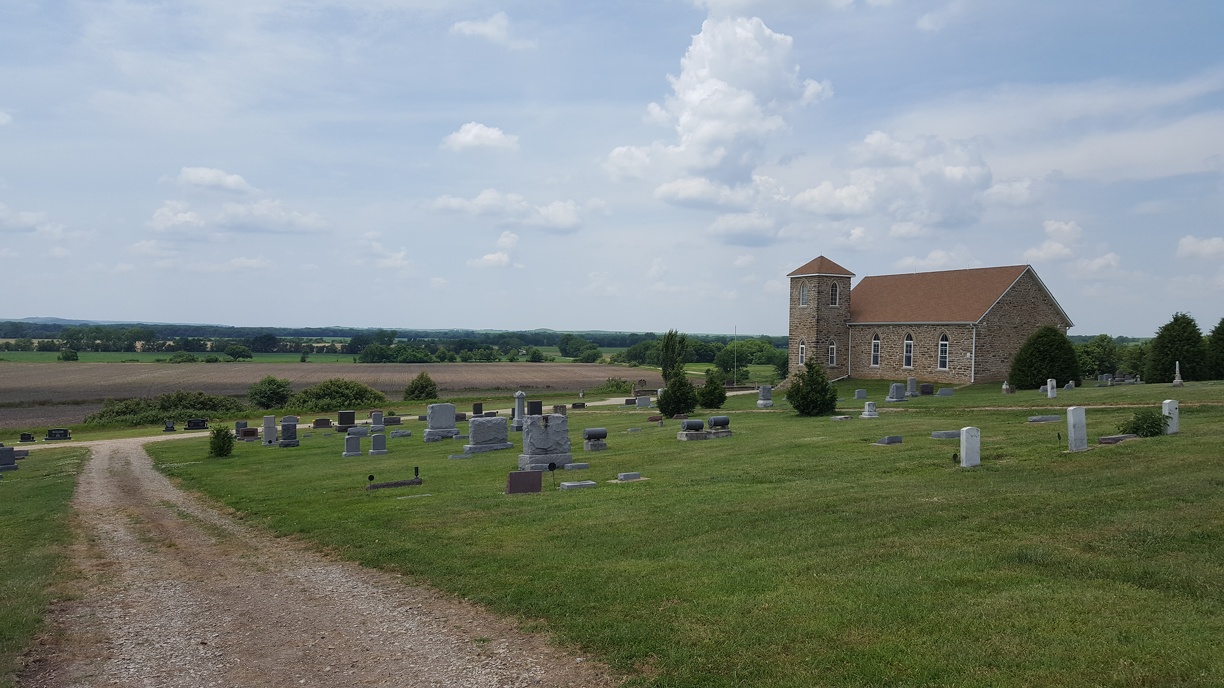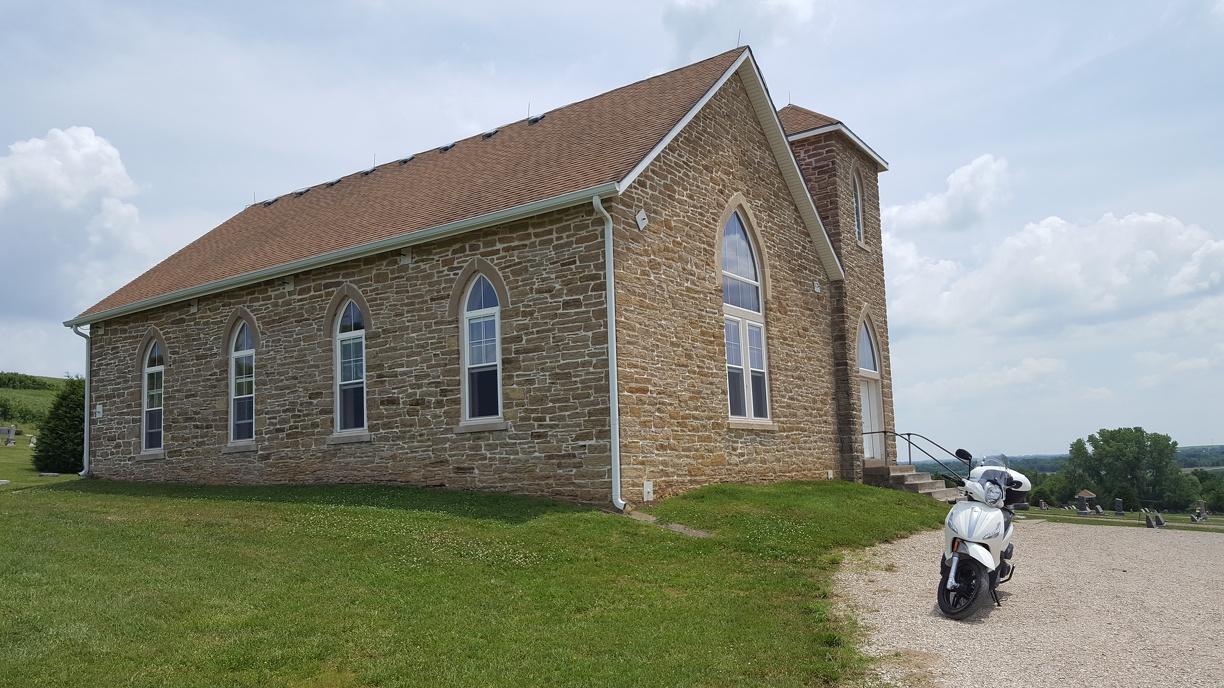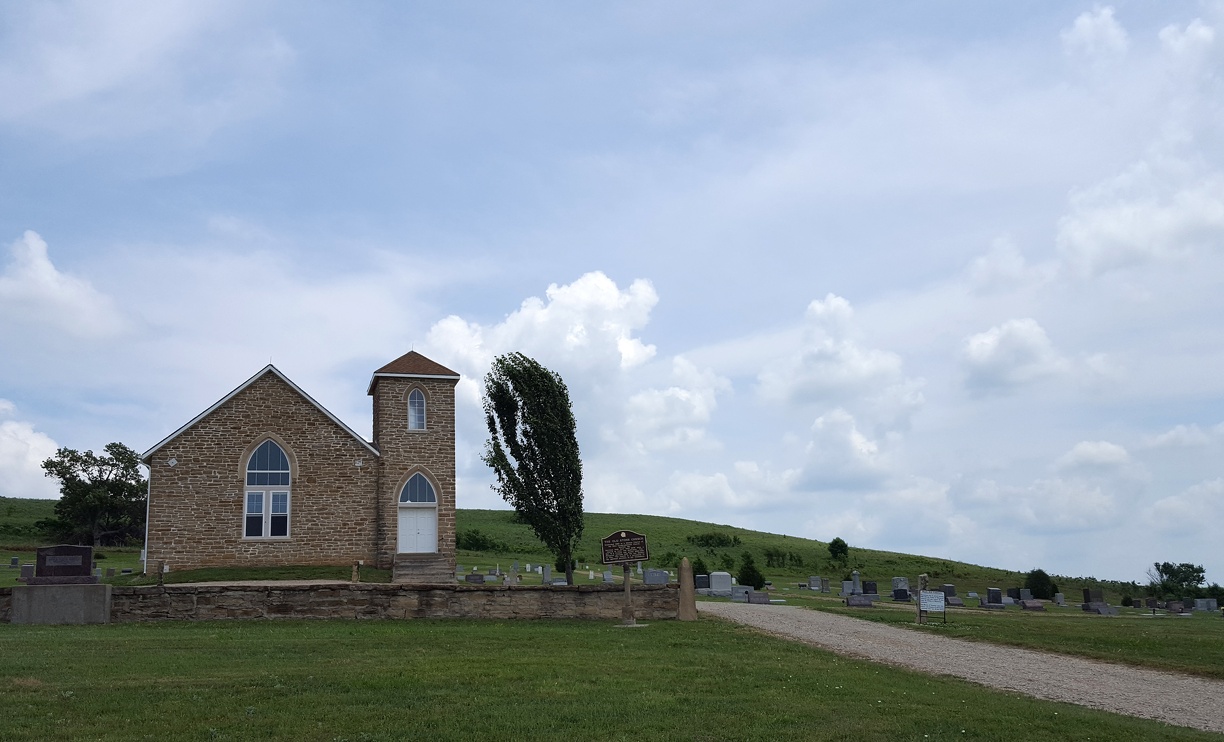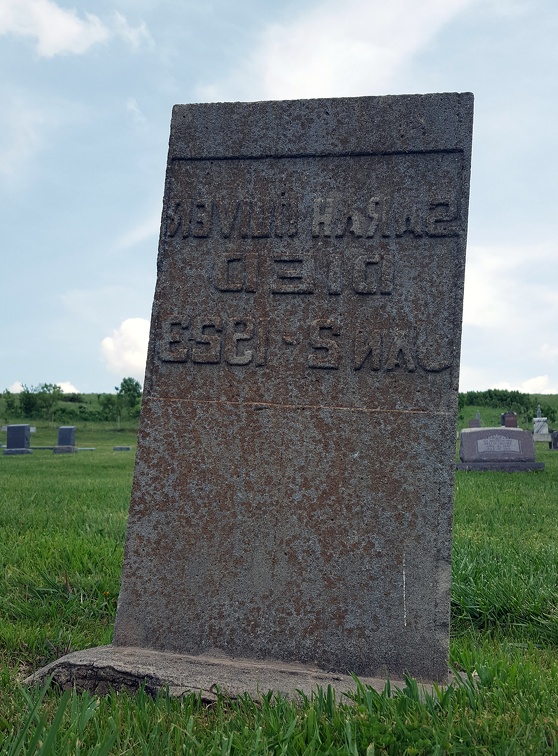 A short ride off the higwhway, and a small stretch of gravel road road leads to this isolated church and cemetery. I'm here to see the grave stone of Sarah Oliver, cast backwards in concrete. Rumored to be an accident the family was too poor to correct, it's a strange site amidst the rest of the tombstones.

This isn't a great picture but one of my favorite sites off highway 24 is this double silo with a tree growing out of it. I stopped to take a picture, the cell phone is lacking a zoom so this crop is a bit hairy. To make this more of a classic Kansas photo a train was driving through in the background.
That's it for the ride, if you're a gear nerd here's what I was testing out today and how it worked:

I snapped a picture while taking a break at one point. Gear:
REV'IT Sands 2 Jacket (Hi Viz, both liners removed) – I'm looking for gear I can use through a lot of weather variations so just picked up this jacket. This was its first long journey and it worked great. The arm vents are genius, they work so much better than the ones on the chest (given the windshield I'm using). Combined with the sleeves my upper body never felt too hot as long as I was moving. Really pleased with this so far.
LDComfort Cool Sleeve – Oh sweet heavens these things are awesome. I picked them up recently and pulled them out when I first stopped for fuel, maybe an hour into the ride. Poured some water on, put them on, and was laughing out loud as I rode off. As soon as the wind hit them, it felt like having bands of ice wrapped around my arms. The effect was less dramatic as the heat and humidity increased but these made a tremendous positive difference when riding in the heat. New favorite things.
Fieldsheer armored pants – I've had these for ages but was never good about wearing them. They don't fit quite right and are getting ragged, so I have a newer set on order. They can unzip all the way along the outside, and I did unzip the top few inches which helped a lot. No hip armor in these and that move might have been a terrible idea in a crash, but it made them bearable to wear.
Full Face Helmet – (not pictured, it's what the seat is resting on) I have a Shoei which is expensive and missing some features I'd prefer but it also fits my head shape and lets me wear glasses without moving them around so I'll take what I can get. My head was fairly warm today, I'm thinking a wet neck towel might have helped.
Sedici lightweight gloves – These seem fine, flow a fair amount of air. I wish they had more protection but it seems hard to get that without sacrificing the airflow.
3M earplugs – I picked these up at Home Depot the other day. I was using Howard Leight MAX-1 foam plugs and those were pretty good, although I noticed they sometimes hurt my hears a bit. If I rode for two days in a row the insides of my hears felt a little raw. These 3M plugs are much softer but they're so soft they kept falling out when I'd take off my helmet. Ok in a pinch, but I'll be trying something else.
OsmAnd GPS app – Worked impressively well! I talked about it up top, I'll use it again.
Furkot – Used this to create the map at the top of this post. Not sure it was any better than Google Maps for that.
Total Miles: 175.
Time: Roughly 4 hours.