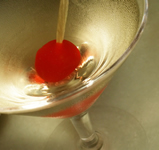 As per request, I recently embarked upon playing with the Rob Roy. This drink is very simple, pretty much the Manhattan of the scotch world. Now, I've made many a delightful Manhattan, and the proportions normally stay more or less the same. Unfortunately, with a Rob Roy, all such bets are off.

Let's start out with the basic recipe:
Rob Roy
1 1/2oz scotch
1/2 oz sweet vermouth
1 dash of bitters (try orange although Angostura is common these days)
1 maraschino cherry for garnish
This is your basic cocktail: put all the ingredients (minus garnish) into a shaker with ice, stir, and strain into cocktail glass. If you're using orange bitters, you might substitute a lemon twist instead of the cherry, but either is good.
Simple, no? Unfortunately, the cocktail, and especially the amount of sweet vermouth to use, varies highly depending on the scotch. I made the above with Johnny Walker Green and it about blew my socks off. Alas, not in a good way. The peat in the Walker absolutely drowned out the vermouth and I didn't like the results at all. However, using Chivas Regal (12 year) makes a delightful drink that even Christy enjoys (she's no fan of the brown alcohol).
While I think there's a lot of room to play with the peatier scotches, this drink works very easily and very well with a more balanced scotch, which is perhaps why most folks tend to reach for a blend. I'm a big fan of Islay whisky, in fact it's my preferred region of single malt, I love the peat and salt they often have, but if you're making a Rob Roy out of one of those you might either want to scale back on the vermouth (basically just adding some accent) or really bump it up so it can compete.
The picture above isn't one of mine, instead it's from morgueFiles! Feel free to check out the original.