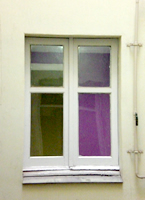 Barcelona was tons of fun. A few hundred pictures are up on my flickr site.
Miles Flown (according to US Air): 12,588
Photos Taken: 749
Good Meals Eaten: 3
Blisters on Chris' Feet: 6
Blisters on Christy's Feet: 0
Miles Walked: Approximately 1 million, most of those by Christy
Tourist Sites Seen (and enjoyed): too many to count
The trip rocked.
(picture is the view outside our Barcelona apartment window)