The problem with browsing through cocktail blogs is that I invariably find someone else who is posting delightful, well informed information and my list of places to read increases. The Handy Snake is one of those, and I earlier wrote about Kurt's Manhattan Special. Being a big fan of the tasty manhattan, I tried it out and was intrigued enough to recreate it with some slight modifications. Mainly, I don't like drinking mine on the rocks, so I just reduced the amounts and ended up changing the proportions a hair. If you're interested, I really recommend you check out the original.
The Manhattan Special
1.5 oz rye whiskey
.4 oz sweet vermouth
.3 oz Benedictine
2 dashes of Angostura bitters
Shake with ice and strain into a cocktail glass. Garnish with a cherry.
Note that Kurt makes a good point about wanting a strong rye to take on the Benedictine. I always like Wild Turkey in my Manhattans, and it serves well in this case.
What's up with the .3 and .4oz measurements? I tend to make a Manhattan at 3:1 rye to sweet vermouth, but that's too weak if you then add Benedictine. You could certainly just do 1/4 oz each of vermouth and Benedictine, but I liked it better with a hair more than that, and adding more vermouth than Benedictine. The end result is a very soft and sweeter Manhattan. It's handy for those times when you want a Manhattan, but aren't really looking forward to it standing up and socking you in the mouth for the first few sips. Of course, I think that's part of a good Manhattan's charm, but this is nice to have in the recipe book. Thanks, Kurt!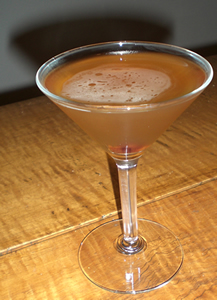 Yes, there's a cherry there but I shook it instead of stirred the drink. This also dilutes it a hair more, in addition to making it colder quicker, which I think works well in this case.